TANKS + MESSWARTEN / TANKS + CONTROL ROOMS
1998 – 2002
Tanks: Durchmesser ca. 62 m, Höhe 11, 18, 22 m / diameter app. 62 m, height 11, 18, 22 m
Shell-DEA Raffinerie / refinery Köln-Wesseling (mit / with Klaus Osterwald)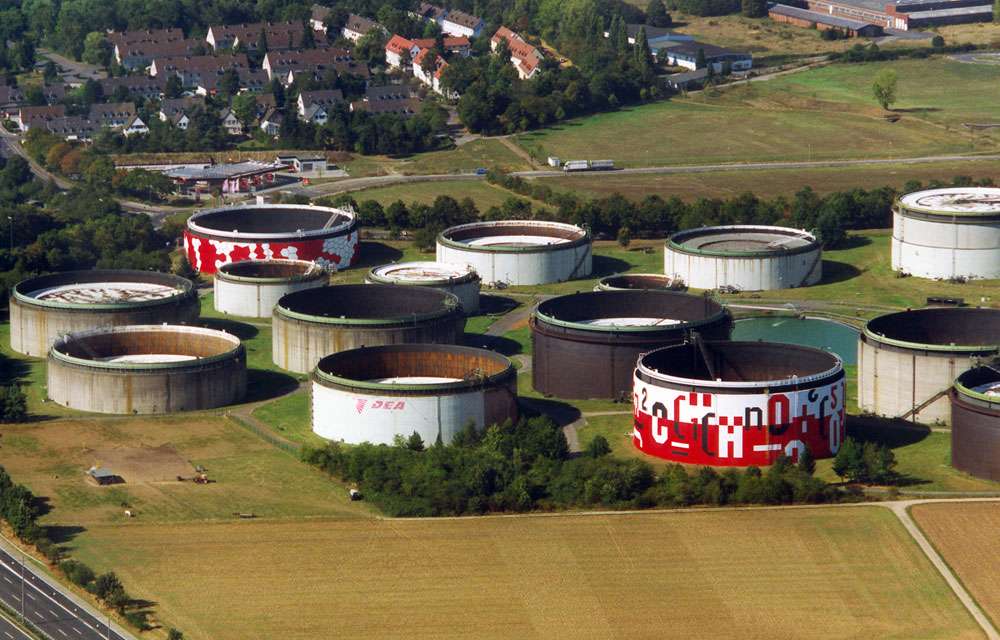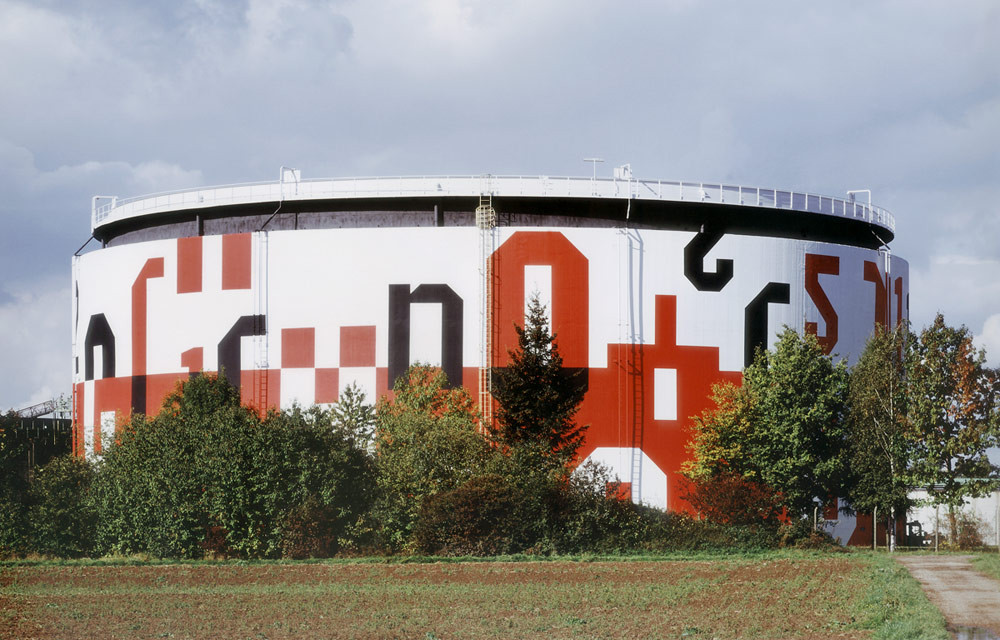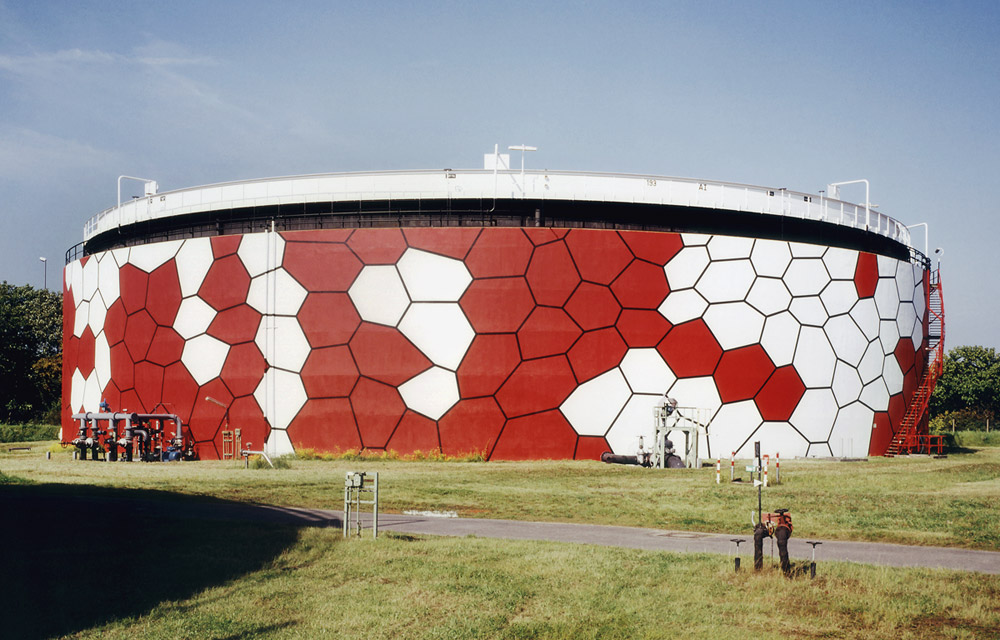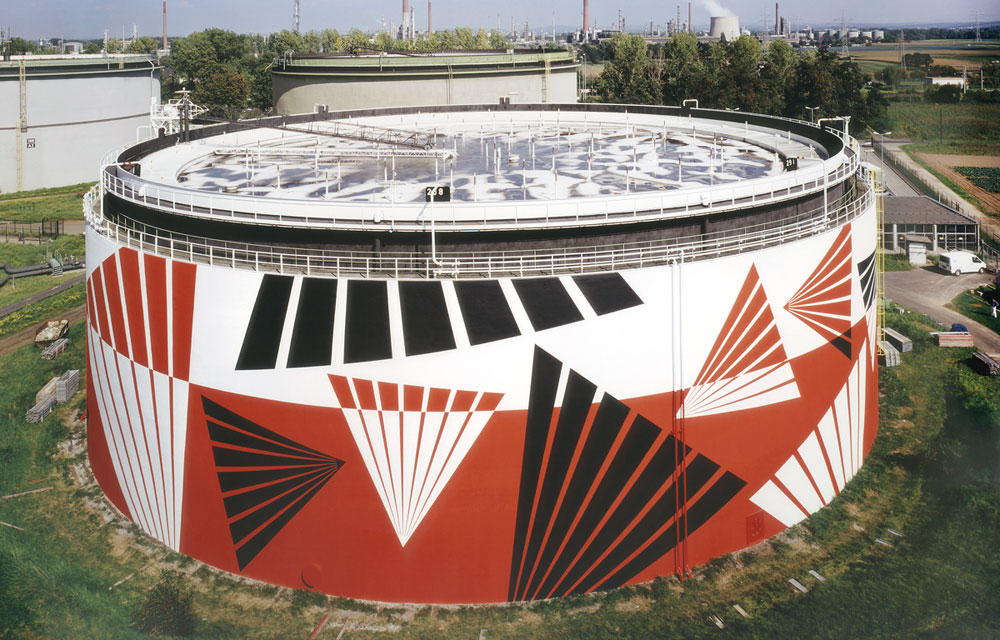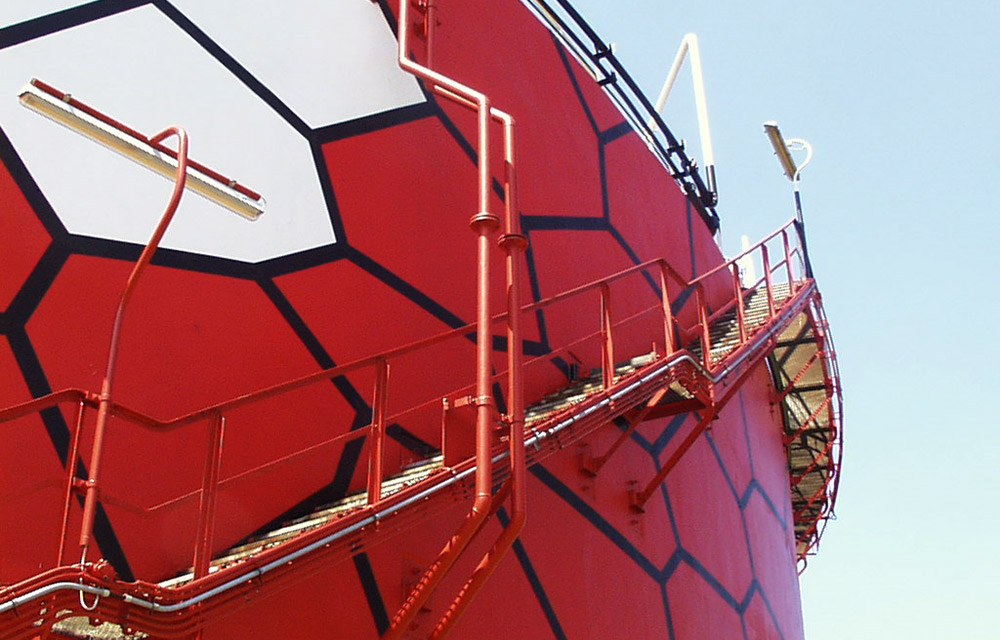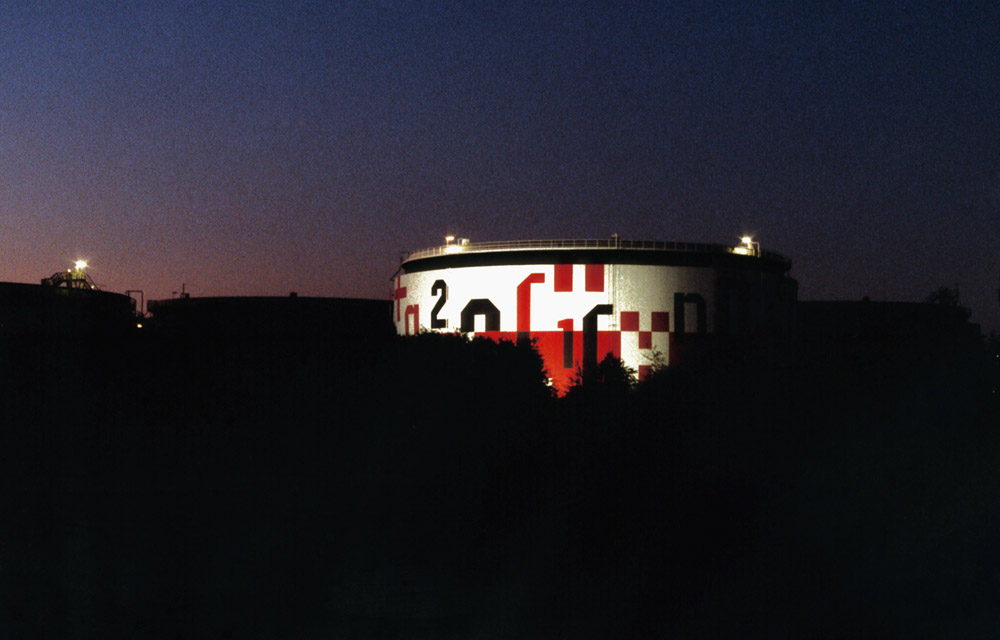 Das Luftbild zeigt das Tankfeld an der Autobahn 555 von Köln nach Bonn. Die drei gestalteten Tanks liegen an exponierter Stelle und fallen schon von weitem ins Auge. Die Außenhaut der Rohölbehälter wurde durch eine zeichenhafte Visualisierung des Inhalts gleichsam transparent gemacht. Zum einen ist es das Hexagon des Benzol­rings, das sich – zum Netz vervielfältigt – über die gesamte Fläche spannt. Ein zweiter Tank variiert die chemischen Grundformeln für Kohlenwasserstoffverbindungen in freier Bildfindung. Auf einem dritten Behälter "fliegen" farbige Strahlenfächer in Anlehnung an das Firmenlogo über die Oberfläche.
Realisation: Die Entwürfe wurden durch eine Vermessungsfirma per Computer und Laserpunkt maßstabsgetreu übertragen und anschließend von Hand ausgeführt.
Tankdurchmesser: je ca. 62 m, Höhe: 11, 18, 22 m
The aerial photograph shows the field of tanks next to the Autobahn 555 between Cologne and Bonn. The three tanks are located at a prominent place and catch the eye from far away. The outer shell of the crude oil tanks was made – as it seems – transparent by an emblematic visualising of its contents. Firstly, the hexagon of the benzene ring spans – duplicated into a network – the whole surface. A second tank varies the basic chemical formula for halocarbon compounds in a pictorial invention. Drawing on the company logo, coloured fanned rays "fly" over the surface.
Realisation: a surveying firm transposed the designs by computer and laser dots true to scale before they were then completed by hand.
Tank diameter: ca. 62 m each, Height: 11, 18, 22 m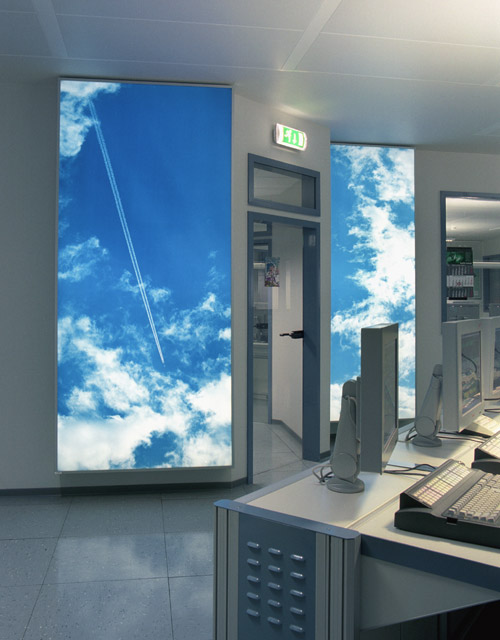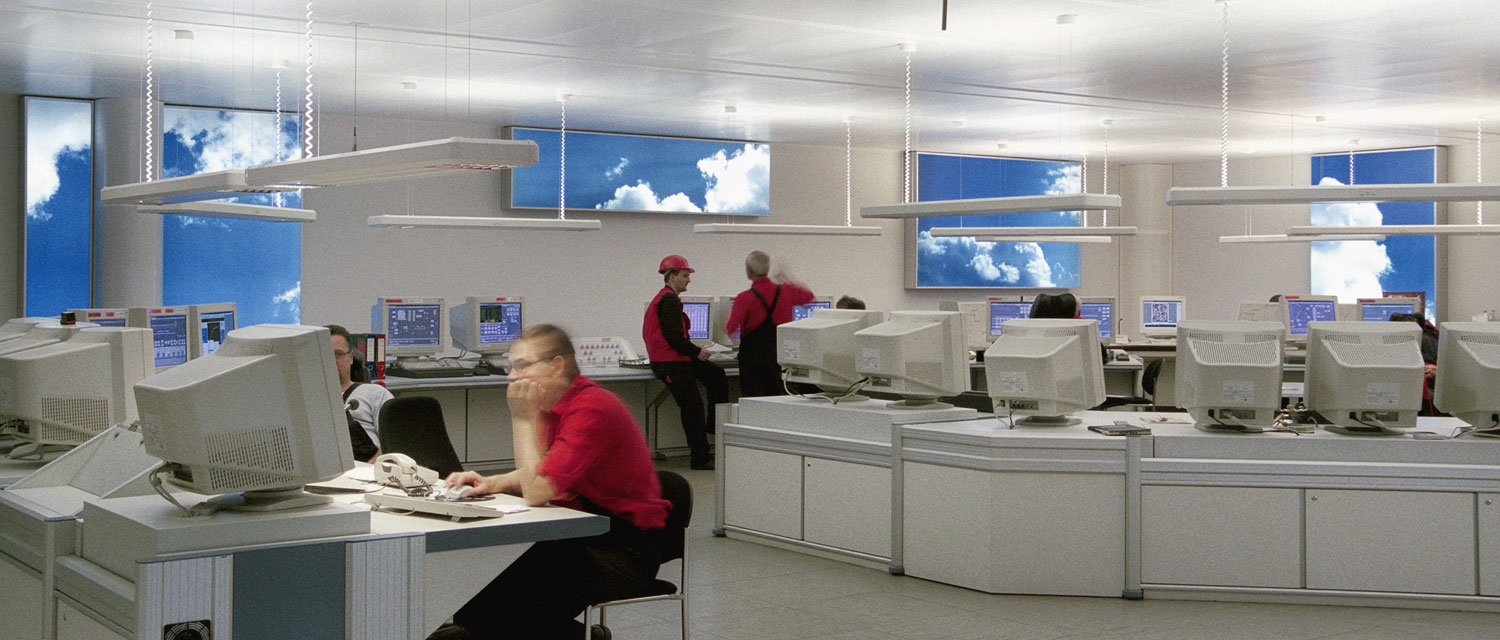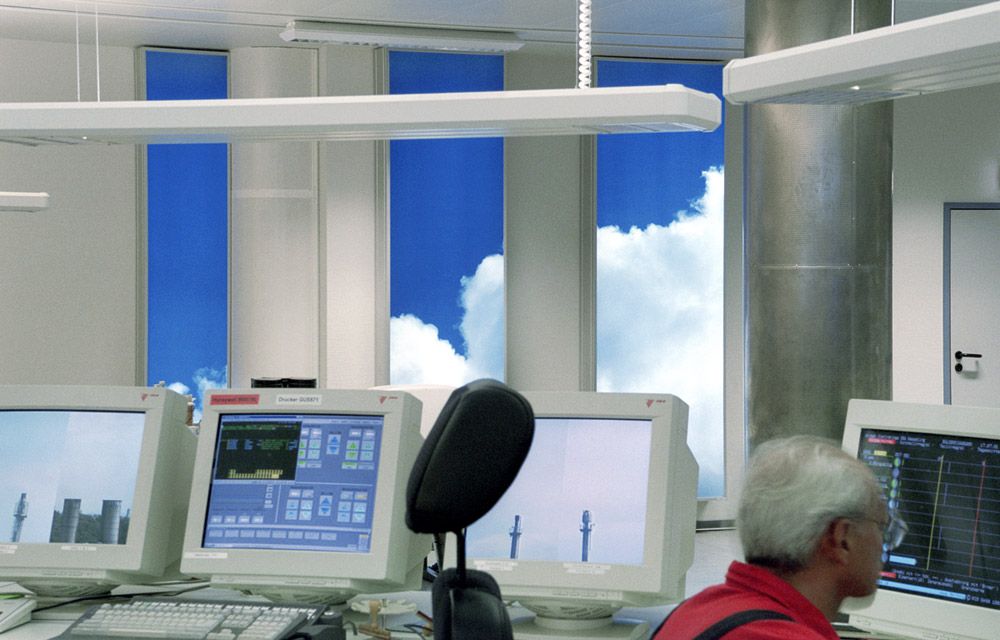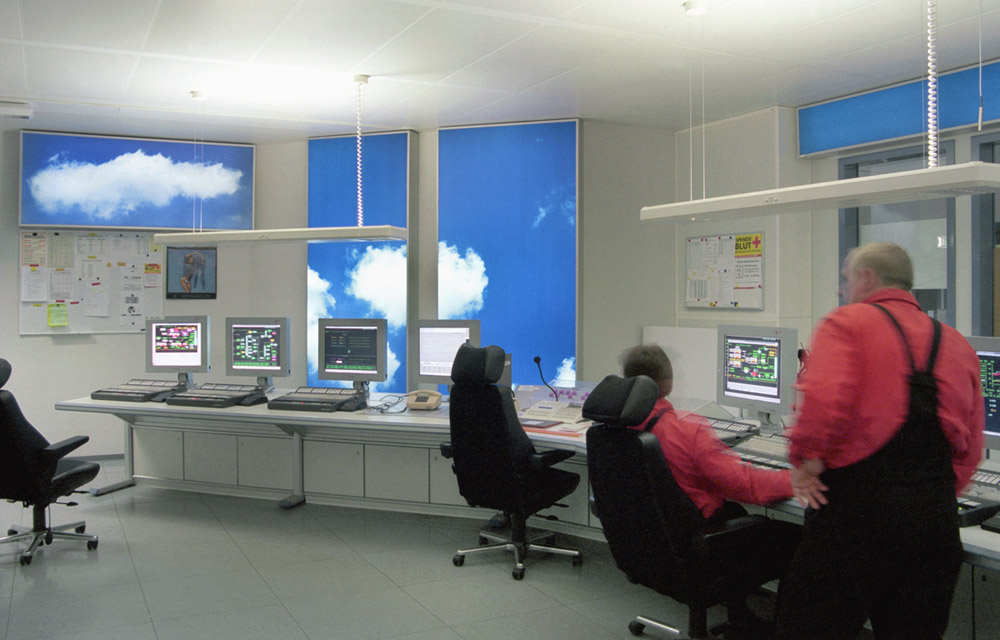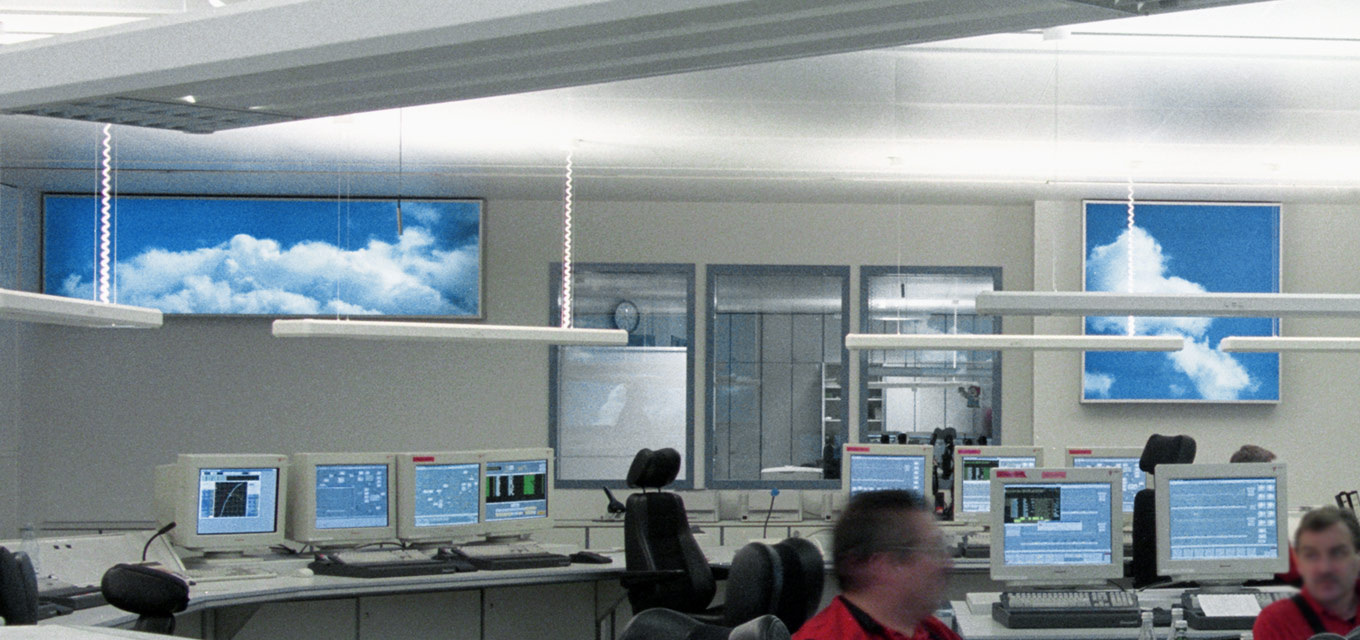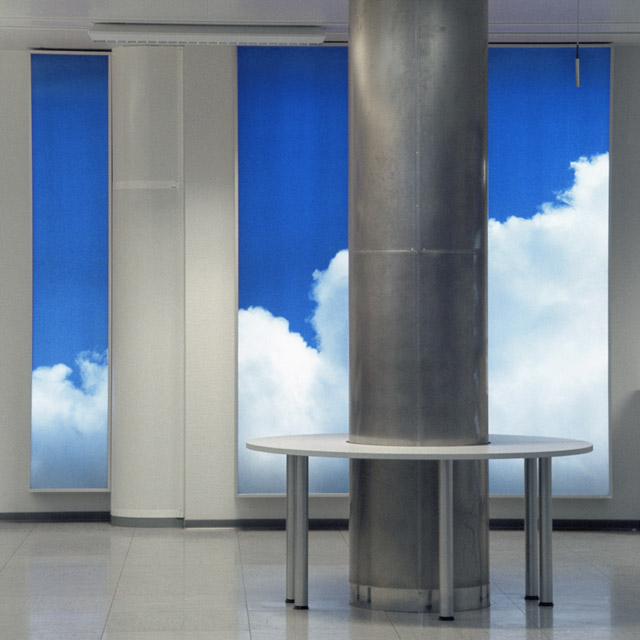 Aus Sicherheitsgründen sind die zentralen Messwarten auf dem Werksgelände fensterlose Betonbunker, die unter allen Umständen funktionsfähig bleiben müssen. Von hier aus werden rund um die Uhr sämtliche Produktionsvorgänge gesteuert. Die Arbeit an den Computerterminals ist ermüdend, trotzdem muss hier jeder immer hellwach sein. Lichtkästen mit Fotografien von Wolkenformationen öffnen als imaginäre Fenster die Betonwände und nehmen so dem Raum die Enge.
Realisation: 21 Aluminiumlichtkästen, C–Prints auf Acrylglas, Oberflächen matt kaschiert, Größen und Formate auf den Raum bezogen
For security reasons, the main control rooms on the plant grounds are windowless concrete bunkers, which have to remain operational in all circumstances. It is from here that all the production process are operated around the clock. Working on the computer terminals is exhausting, but everyone needs to be fully alert at all times. Functioning as imaginary windows, light boxes with photographs of cloud formations open up the concrete walls and thus relieve the room of its confinement.
Realisation: 21 aluminium light boxes, c-prints on acrylic glass, surfaces matte laminated, dimensions and formats relevant to the room
Fotos: David Janeček (4), Klaus Osterwald (2, 3, 5, 6, 7, 8, 9, 10, 11, 12)